Manchester Optometry Services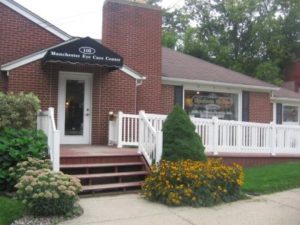 Manchester Eye Care Center, P.C. has been a leading provider of optometry services and vision care products in the Manchester community since 1992, and we want to help you achieve and maintain clear vision for years to come.
Our experienced eye doctors offer comprehensive vision examinations at our Manchester optometry office and specialize in the diagnosis and treatment of a wide array of eye diseases, conditions, and problems. We use advanced diagnostic technology and vision correction products and are committed to improving the quality of life of persons in the Manchester community through enhanced vision. Give yourself the gift of clear vision – schedule an appointment with Julie A. Marvin-Manders, O.D. today.
Corona Virus Update:
UPDATE: 06/23/2020
As our office begins to shift towards some sense of normalcy, we will continue to implement the safety protocols listed below to help maintain the safety of our patients and staff. We ask for patience as we work to reschedule missed appointments due to COVID19. We have started back with our normal office hours:
Monday: 10am-7pm
Tuesday and Friday: 9am-4pm
Wednesday and Thursday: 8am-5pm
As always if you have an emergency please call our office, or contact Dr. Manders directly at 734-260-5160.
UPDATE: 05/10/2020
In an effort to keep our community safe, and comply with the latest CDC and State of Michigan recommendations, our office is open for urgent and essential care and we wanted to share with you the safety protocols we've implemented to help protect patients and staff.  See below for full details. 
Phone hours will be Monday thru Friday 9:00 am- 4:00pm for the foreseeable future to assist with scheduling urgent visits, processing orders and answering your questions.
If you are experiencing an eye emergency, please call the office or you can contact Dr. Manders directly at 734-260-5160 outside office hours. You can also contact us after hours for non-urgent matters at manchestereyecarecenter@gmail.comor leave us a message on our office answering service.
When possible glasses and contact lens orders will be dispensed to you curbside or contact lenses can be mailed directly to your home.  Please call us from your vehicle and we will gladly deliver them to you maintaining proper social distancing or we will leave them in the mailbox outside our front door.  (available 9:00 AM – 4:00 PM)
If you have an appointment scheduled for the near future, our staff will be calling you to discuss arrangements or rescheduling.
Thank you for your patience and understanding, and we appreciate your continued trust!
Pre-Visit Screenings:
•
All patients asked if they have traveled in the last 14 days, have known exposure to someone with COVID-19, or exhibited known COVID-19 symptoms (e.g. cough, fever, shortness of breath) in the last 48 hours.  (IF YES, we will schedule appointment no sooner than 2 weeks from the date of the call)
•
We require all patients to wear a mask, scarf, or bandana that covers their nose and mouth during their visit.  Patients' temperature will be taken as part of the care process.  All patients reminded of this policy when they are confirmed for their appointment.
In Clinic:
•
Patients are again asked the screening questions above upon arrival.
•
Patients are asked to wait in their cars.  Staff will perform pre-exam histories over the phone
prior to your appointment
.  Then we will meet you at the door to check for fever and be escorted directly to your clean exam room.
•
Patients instructed to
use hand sanitizer
immediately upon entering the building.
•
Patients must come in alone, with the exception of minor children with one guardian accompanying.  Patient and guardian must both be masked.
•
Hand sanitizer
is also
available at multiple places around the office.
Staff Protocols:
•
Frequent hand washing before and during each patient encounter.
•
Staff will be asked the same screening questions above before every shift, and temperature
will be
checked for fever upon entry to the building
, at lunch and before leaving the building.
•
Staff wearing masks at all times during
shift, and
wearing gloves for all patient contact.
•
No staff allowed to congregate in any area of the office.
Cleaning Protocols:  
•
Equipment is sanitized after every patient (
all testing instruments,
microscopes, lenses, keyboards, counter tops, exam chairs) including all surfaces a patient may have touched (arm rests, pens, door handles, etc.)
•
Additional cleaning of all surfaces and counters in the office
•
We've removed all shared materials (magazines, pens, toys) from waiting rooms
•
Our optical staff are following strict disinfection protocol for eyeglass frames and sunglasses.  No frame will be put back on the frame board without being properly disinfected.  No patient will be allowed to freely browse in optical without a staff member to ensure cleaning standards can be upheld.