Manchester Optometry Services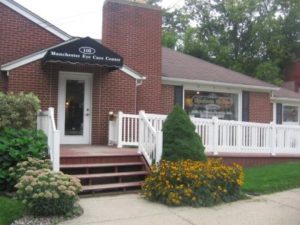 Manchester Eye Care Center, P.C. has been a leading provider of optometry services and vision care products in the Manchester community since 1992, and we want to help you achieve and maintain clear vision for years to come.
Our experienced eye doctors offer comprehensive vision examinations at our Manchester optometry office and specialize in the diagnosis and treatment of a wide array of eye diseases, conditions, and problems. We use advanced diagnostic technology and vision correction products and are committed to improving the quality of life of persons in the Manchester community through enhanced vision. Give yourself the gift of clear vision – schedule an appointment with Julie A. Marvin-Manders, O.D. today.
Corona Virus Update:
At this time due to the evolving Coronavirus concern our office is closed indefinitely and available for only emergency eye concerns. If you had an appointment scheduled between Wednesday, March 18 and Friday April 3, every effort will be given to reschedule your appointment with priority upon our re-opening. If you feel you have an ocular emergency and wish to speak with Dr. Manders, she can be reached at 734-260-5160. We will be addressing concerns regarding orders or repairs of glasses or contacts with limited staff for the remainder of this week or can be contacted at manchestereyecarecenter@gmail.com for assistance. Please visit our Facebook page or our website at www.visionsource-manchestereyecarecenter.com for continual updates regarding our re-opening and limited availability. Thank you for your understanding as we all work together to stay healthy.
Staff will be in the office Thursday and Friday 9-4:00 answering phones- please give us a call before coming in.